ergonomic armchairs with armrests
office chairs with lumbar support for modern workplaces
USED FOR:

OFFICE, TASK AND OPERATIONAL WORKSTATION, PRODUCTION AREAS, GENERAL WORKPLACE AREAS

FEATURES:

ERGONOMIC, SYNCHRO MECHANISM, ANTI-SHOCK BACKREST, LUMBAR SUPPORT, TENSION CONTROL, ADJUSTABLE SEAT, ARMS, CASTORS / WHEELS, HEADREST

AVAILABLE COVERS:

FIRE RETARDANT FABRIC, PVC, VINYL, SIMILIAR LEATHER, FULL GRAIN LEATHER
sprint
Sprint: speed, functionality and manageability task office chair with lumbar support for office workstations and call centers. A true workhorse appreciated for its easy use. A task office chair designed to respond to different users' needs and to help in the difficult working environment all day long. Here in Leyform we can propose many of the best task office chairs with lumbar support, especially designed to support your back as you work at your desk, enabling you to be more productive and of course, more comfortable; all our ergonomic office chairs are fully adjustable with many types of customizable features, which are designed to fit to your body and movement. Each user can choose the most appropriate height and seating position to suit individual preferences and requirements.
WHITE OFFICE ARMCHAIR SPRINT IN AR+
View the white office chair with lumbar support SPRINT with augmented reality. Select your device, frame the area of interest from your IOS or Android phone and click to place the swivel chair with white plastic parts for modern offices SPRINT in the space*.
Apple Ios Safari
Android Browser
*Compatible with iPhone 6S or higher and Android smartphones that support the ARCore app.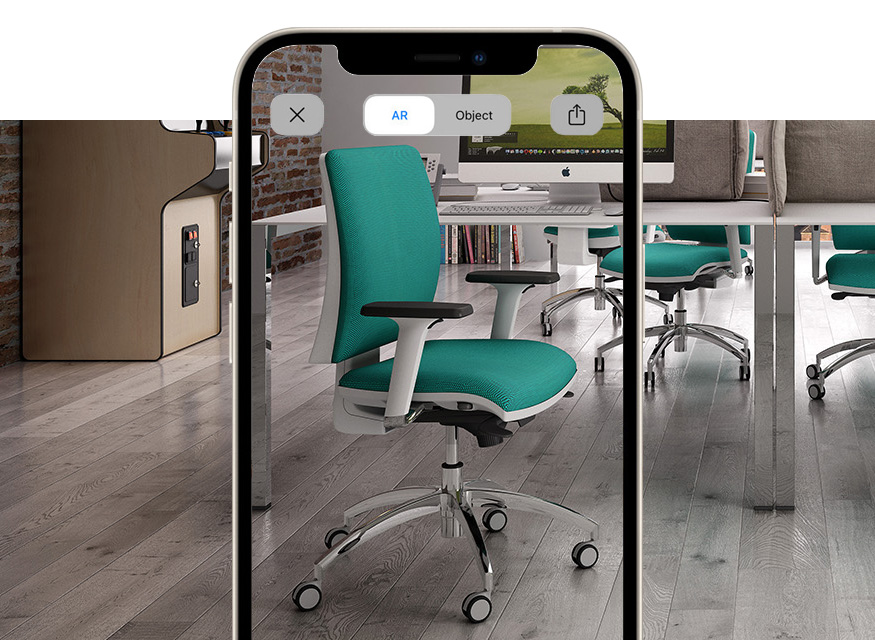 DETAILS
IMAGES AND EMOTIONS
Uses, characteristics, functionality and peculiarities.
Sprint, white ergonomic office armchairs
Sprint-W ( = white ) family armchairs with lumbar support for task office workstations are great for active offices and workers as they allow you to be more dynamic in your movements and follow you naturally into your seating positions. Sprint task office armchairs with lumbar support is really user-friendly and have lots of adjustment to enable the user to work in complete comfort. Read more...