CHAIRS FOR CUSINE ISLAND AND LIVING TABLE
FOR HOME-OFFICE AND COMMUNITY ENVIROMENT
USED FOR:

HOME-OFFICE, KITCHEN, PUBLIC AREAS, LIVING ROOMS, GAME ROOMS, HOTEL, RESTAURANT, BAR

FEATURES:

MODERN AND UNIQUE STYLE, COmFORTABLE SEAT, EASY TO CLEAN, LIGHT CHAIR, WITH WOODEN LEGS, WITH WRITING TABLET

AVAILABLE COVERS:

FIRE RETARDANT FABRIC, ECO-LEATHER, real LEATHER, PVC, VIRGIN WOOL
Zerosedici with wooden legs
Your living room is the place where you relax, entertain, watch movies, play games and more. That's the reason why your living room chairs should reflect your style and meet your needs. With Zerosedici 4-leg wooden chairs for living table - but also for cuisine islands - you can get the exact style you need to match the decor for your living or kitchen environment; in that way your living room will match your personal style, so that your home says something about your tastes and preferences. Contemporary modern furniture looks better when your home is well-kept and minimalist. Whether you like natural wood for legs or virgin wool for upholstery, with Zerosedici 4 legs chair your modern furniture will show off your style.
1.
wooden legs give a natural touch to your living room
Let's leave the living room and move into the dining room: Zerosedici chair with 4 wooden legs is an ideal companion. Its streamlined and elegant shape is eye-catching and makes a decisive impact with its white or black painted frame, enhancing the colour of the wood, which adds a touch of nature to your cuisine or living area.
2.
decorate your home with modern style and top quality components
Decorating your contemporary living room with Zerosedici 4 legs wooden chair can help you to pull together a stylish and modern home. Zerosedici family encloses a variety of modern shapes and designs combined with high-quality materials to create some of the best seats that match with modern furniture.
3.
sit & relax to have a pleasant and enjoyable meal time
Zerosedici 4 legs dining chair can be placed around a gorgeous marble table top or around a rustic wooden dining table. No matter which design you choose for the table or kitchen island, you can be sure that Zerosedici 4 legs wooden chair will make meal times a truly enjoyable experience.
ZEROSEDICI WITH WOODEN LEGS IN AR+
View Zerosedici with wooden legs for living room and cuisine island with augmented reality. Select your device, frame the area of interest from your IOS or Android phone and click to place Zerosedici with wooden legs in the space*.
Apple Ios Safari
Android Browser
*Compatible with iPhone 6S or higher and Android smartphones that support the ARCore app.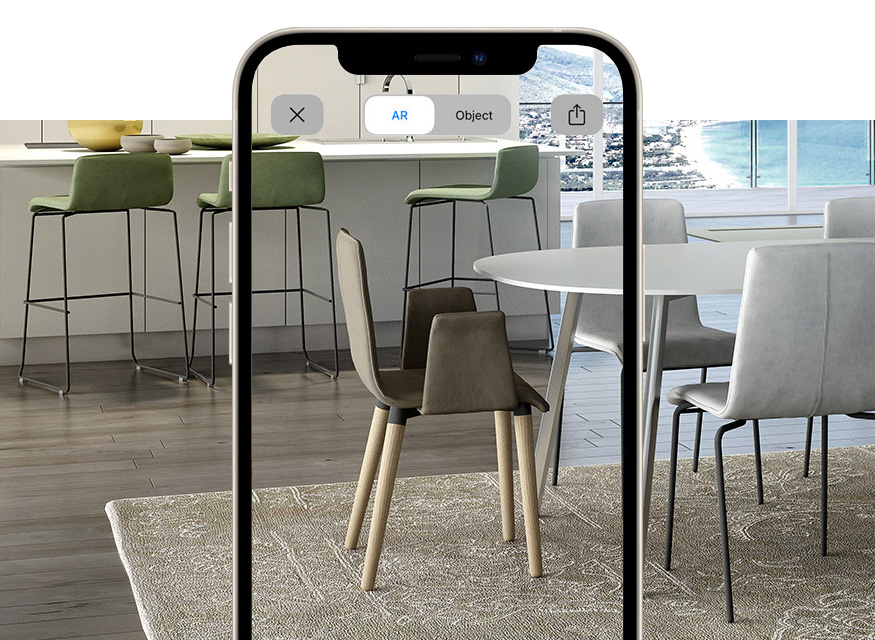 DETAILS
IMAGES AND EMOTIONS
Uses, characteristics, functionality and peculiarities.
Chair for dining table and kitchen island
Every room in a house has a central element that defines it. For the kitchen, that element generally is the kitchen island and the chairs used around it. It's the piece that brings everything together, the piece that sits in the center and maintains an organized d?cor. The role of the kitchen island with chairs is not specific; it's a multifunctional element and it serves as a wonderful and practical area where you can seat to have a drink but it can be also a great work area. Read more...
Zerosedici 4 legs chair, for modern and contemporary design living room furniture
Zerosedici with 4 wooden legs; the chair that is an ideal companion for kitchen island and dining tables
Living room chairs that should reflect your style and meet your needs for your living or kitchen environment
4-leg chair for modern furniture that will show off your style and can help you to pull a stylish, modern home
Chairs with wooden 4 legs that can transform your dining room into a relax experience
Chair for dining table that can match a marble table top or a rustic wooden dining table
Lecture hall and community seating, similar models
Stacking dining chairs with mesh on the back Wiki-RE 4G
|
Stacking nesting seating with casters and writing tablet Key-ok
|
Stacking chairs for visitors and waiting areas wiki-4g
|
Stacking dining chairs with chrome legs Wendy
|
Stacking chairs with single wooden shell and linking device Cristallo
|
Stacking plastic chars with arms Greta
|
Stacking lecture room seating LaiLa 4 legs
|
Stacking chairs for bars, restaurant and community areas Gardena
|
Stacking chairs for meeting, conference and trainignrooms Valeria
|
Stackable chairs for churches and meeting rooms halI I-Like
|
Stacking folding chairs and seats Arcade
|
Plastic lecture room seating with tip-up tablet LaMia
|
Lecture hall stacking seating with writing tablet Cortina
|
Chairs for cuisine island and living table Zerosedici 4G with wooden legs
|
Multi-use stacking chairs for home-office Zerosedici 4G
|
Training and conference seating with writing tablet Zerosedici sled base
|
Wooden seating for training and conference room Zerosedici Wood
Similar lecture hall and community seating by purpose
Stacking chairs
|
Linking chairs
|
Seating and stacking chairs for community and congress areas
|
Chairs for bar, pub, restaurant, fastfood
|
Chairs and sofas for nursing, rest-home, hotels and medical centres
|
Chairs and stools for hotel, contract and home
|
Chairs for conference, lecture hall and seminar areas
|
Chairs for hotel, congress areas, lecture and church hall
|
Chairs for catering and fastfood
|
Stackable and folding chairs
|
Chairs for restaurant lunchrooms, lounges and breakrooms