TRAINING AND CONFERENCE SEATING WITH WRITING TABLET
ARMCHAIRS WITH SLED BASE FOR TRAINING AND CONFERENCE AREAS
USED FOR:

HOME-OFFICE, KITCHEN, PUBLIC AREAS, LIVING ROOMS, GAME ROOMS, HOTEL, RESTAURANT, BAR

FEATURES:

MODERN AND UNIQUE STYLE, COmFORTABLE SEAT, EASY TO CLEAN, LIGHT AND EASY TO MOVE, STACKABLE, WITH WRITING TABLET, LINKING DEVICE

AVAILABLE COVERS:

FIRE RETARDANT FABRIC, ECO-LEATHER, real LEATHER, PVC, VIRGIN WOOL
ZEROSEDICI SLED BASE
Zerosedici sled base chair is a multi-purpose seat and a byword for adaptability: ideal for training, conference, home-office environments and also for soft contract work. The sled base makes stacking easy - also in the version with armrests - for compact storage when not in use. You can choose the version with writing tip-up tablet in teaching/training work sessions for maximum comfort. We know that chairs takes up space and it is not needed all the time, that's why Zerosedici family chairs with writing tablet for meeting, training and conference are stackable.
1.
the right choice for any public or private environment
Leyform supplies a wide variety of meeting, training and conference solutions to ensure the correct choice for each application. From board meetings to staff training, we have the ideal choice for your business in a multitude of fabrics and styles to choose from.
2.
adaptable to your specific need and taste
Robust and durable, Zerosedici multi-use public seats collection is perfect for conference rooms, training and meetings areas and general office applications. You can choose your Zerosedici chair with either the 4-leg or sled base frame, and even add a writing tablet.
3.
modern style to furnish contemporary work and home spaces
The distinctive and modern design for the wooden shell indicates a highly innovative process to ensure maximum ergonomics, also after a long training or a conference session. This means comfort, durability and strength with the precision and elegance of a fascinating design.
ZEROSEDICI 4 LEGS WITH SLED BASE IN AR+
View Zerosedici 4 legs armchair with sled base for training and conference room with augmented reality. Select your device, frame the area of interest from your IOS or Android phone and click to place Zerosedici 4 legs armchair in the space*.
Apple Ios Safari
Android Browser
*Compatible with iPhone 6S or higher and Android smartphones that support the ARCore app.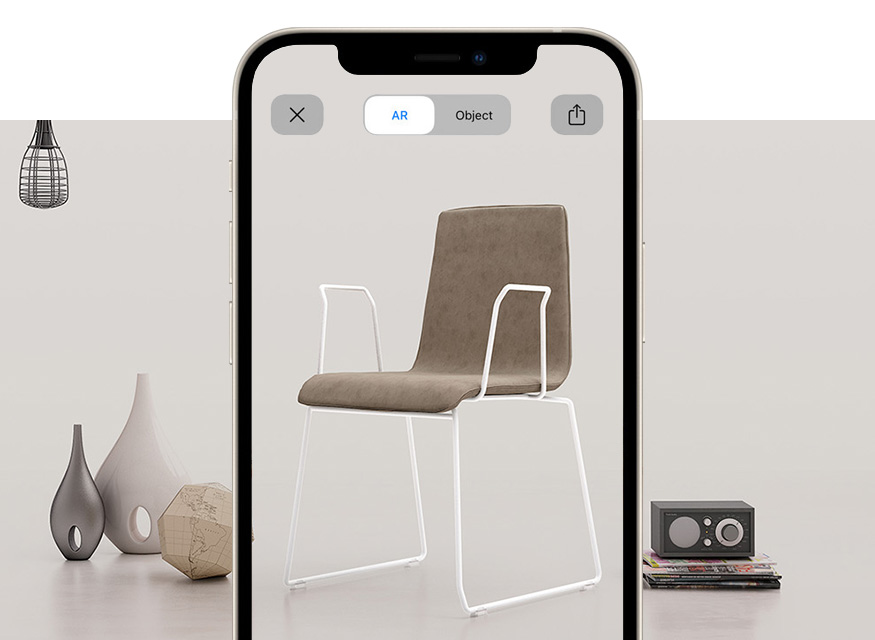 DETAILS
IMAGES AND EMOTIONS
Uses, characteristics, functionality and peculiarities.
Zerosedici sled base chair, a multi-purpose conference seat
Virtually no other chair has caused more of a stir in the design world than multi-purpose chair Zerosedici. And it's no surprise. The combination of a variety of colours for fabric and leather produces models that set any design concept apart. Zerosedici armchair with writing tablet for training and conference areas is a trendsetting statement in any backdrop. It's an ideal choice for meeting rooms, recreational areas, workshops and studios, customer service areas, hotel rooms, restaurants or conferences. Quite simply, it's a chair for contemporary life styles. Read more...
Training and conference seating with a distinctive design to ensure maximum ergonomics
A multi-purpose seat and a byword for adaptability
Ideal for training, meeting, conference, home-office environments and also for soft contract work
A robust and durable armchair with writing tablet, available in a multitude of fabric or leather choices
The distinctive and ground-breaking design indicates a highly innovative production process to ensure maximum ergonomics
An armchair with writing tablet for training and conference areas that is a trendsetting statement in any backdrop
A training or conference seating solution for contemporary life styles
Lecture hall and community seating, similar models
Stacking dining chairs with mesh on the back Wiki-RE 4G
|
Stacking nesting seating with casters and writing tablet Key-ok
|
Stacking chairs for visitors and waiting areas wiki-4g
|
Stacking dining chairs with chrome legs Wendy
|
Stacking chairs with single wooden shell and linking device Cristallo
|
Stacking plastic chars with arms Greta
|
Stacking lecture room seating LaiLa 4 legs
|
Stacking chairs for bars, restaurant and community areas Gardena
|
Stacking chairs for meeting, conference and trainignrooms Valeria
|
Stackable chairs for churches and meeting rooms halI I-Like
|
Stacking folding chairs and seats Arcade
|
Plastic lecture room seating with tip-up tablet LaMia
|
Lecture hall stacking seating with writing tablet Cortina
|
Chairs for cuisine island and living table Zerosedici 4G with wooden legs
|
Multi-use stacking chairs for home-office Zerosedici 4G
|
Training and conference seating with writing tablet Zerosedici sled base
|
Wooden seating for training and conference room Zerosedici Wood
Similar lecture hall and community seating by purpose
Stacking chairs
|
Linking chairs
|
Seating and stacking chairs for community and congress areas
|
Chairs for bar, pub, restaurant, fastfood
|
Chairs and sofas for nursing, rest-home, hotels and medical centres
|
Chairs and stools for hotel, contract and home
|
Chairs for conference, lecture hall and seminar areas
|
Chairs for hotel, congress areas, lecture and church hall
|
Chairs for catering and fastfood
|
Stackable and folding chairs
|
Chairs for restaurant lunchrooms, lounges and breakrooms