CHAIRS AND ARMCHAIRS FOR CONTEMPORARY STYLE COMMUNITY HALLS
MULTI-PURPOSE 4 LEGS SEATING FOR MODERN DESIGN HALLS
USED FOR:

COMMUNITY ENVIRONMENTS, CONFERENCES, MEETINGS, CONGRESSES, TRAINING ROOMS, UNIVERSITY, SEMINAR, EXAMS, LECTURE HALLS, PUBLIC SPACES

FEATURES:

STACKABLE, WRITING TABLET, LINKING DEVICE, NESTING CHAIRS, FULLY-UPHOLSTERED

AVAILABLE COVERS:

FIRE RETARDANT FABRIC, VINYL, FULL GRAIN LEATHER, VIRGIN WOOL
REEF 4 LEGS
There are environments where food is an experience that involves all the senses and hospitality is fundamental. The elegance of the dining room and the warm atmosphere charm and conquer the guests and customers who discover a place, seen as an expression of the "joie de vivre". This is Reef. The 4-leg chair with wooden or metal frame, Reef is ideal for decorating the dining room of a restaurant or hotel with contemporary and dynamic lines. Its rigid shapes give it a majestic and sculptural appearance, and the whole family of dining room chairs Reef for restaurants and hotels can be easily personalized to your needs, ensuring design and practicality. The art of furnishing is now within everyone's reach.
1.
COSY & STYLISH A COMFORTABLE ARMCHAIR FOR ELEGANT HOTELS
The shared areas in a hotel are an important first presentation for customers, guests and visitors. The Reef armchair is a padded chair with a cosy design and available in the most fashionable colors, designed to guarantee maximum practicality in maintenance and cleaning.
2.
italian product manufactured with care and attention to details
One of the best features of Reef is the quality of the materials, always suitable for professional use in hotels and restaurants. The restaurant chair Reef is actually made with metal structures covered with epoxy powders or beech plywood painted.
3.
LONG-LASTING AND CUSTOMIZABLE WITH TOP QUALITY MATERIALS
Armchairs and chairs to furnish the dining room of restaurants, hotels, and public places with design and style. Reef is available in a high variety of colours and upholstery covers such as leather, vinyl, and fire retardant fabric that guarantees an elegant and classy style over the years.
REEF 4 LEGS ARMCHAIR IN AR+
View Reef 4 legs armchair with augmented reality. Select your device, frame the area of interest from your IOS or Android phone and click to place Reef 4 legs armchair for dining rooms, cafes and hotels in the space*.
Apple Ios Safari
Android Browser
*Compatible with iPhone 6S or higher and Android smartphones that support the ARCore app.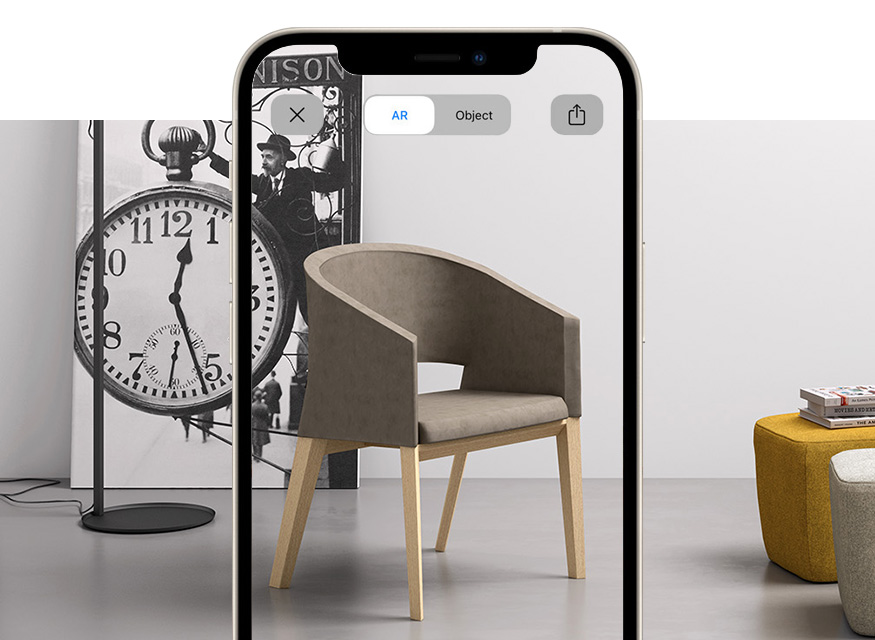 DETAILS
IMAGES AND EMOTIONS
Uses, characteristics, functionality and peculiarities.
Restaurant chairs, perfect for hotel dining rooms
Leyform has been producing restaurant chairs for over fifty years, combining the passion for design with the technical mastery of the upholstery department and attention to detail. The restaurant chair Reef can be customized according to the needs of each project: materials, colors and finishes can be combined, such as the frame painting and the upholstery colors, so as to guarantee maximum adaptability for classic or contemporary furnishings. Reef is a chair for restaurants and public areas with a strong minimal character. Leyform considers the design an essential part of the communication and conviviality between form and function, between a restaurant owner and his customers. Read more...
Reef, dining room chairs for restaurants and hotels, able to guarantee conviviality between the restaurant owner and customers
4-leg restaurant chair with wooden or metal frame ideal for decorating the dining room of hotels
Armchairs and chairs for restaurants and hotels that can be easily customized to your needs
Cosy padded chair for restaurants, available in the most trendy colors
Restaurant chair suitable for professional use in hotels and restaurants
Restaurant chairs available in fireproof imitation leather that guarantees an elegant and classy style over the years
Chairs and armchairs for restaurants suitable for classic or modern furnishings and customizable according to the needs of each project
Lecture hall and community seating, similar models
Stacking dining chairs with mesh on the back Wiki-RE 4G
|
Stacking nesting seating with casters and writing tablet Key-ok
|
Stacking chairs for visitors and waiting areas wiki-4g
|
Stacking dining chairs with chrome legs Wendy
|
Stacking chairs with single wooden shell and linking device Cristallo
|
Stackable design plastic chair for outdoor garden Greta
|
Stacking lecture room seating LaiLa 4 legs
|
Stacking chairs for bars, restaurant and community areas Gardena
|
Stacking chairs for meeting, conference and trainignrooms Valeria
|
Stackable chairs for churches and meeting rooms halI I-Like
|
Stacking folding chairs and seats Arcade
|
Plastic lecture room seating with tip-up tablet LaMia
|
Lecture hall stacking seating with writing tablet Cortina
|
Chairs for cuisine island and living table Zerosedici 4G with wooden legs
|
Multi-use stacking chairs for home-office Zerosedici 4G
|
Training and conference seating with writing tablet Zerosedici sled base
|
Wooden and metal armchair for restaurant lunchrooms Reef 4 legs
|
Chairs for congress and seminar furniture with writing tablet Cosmo
|
Congress and seminar room design chairs Cosmo sled base
|
Conference mesh chairs for social distancing iLike RE
|
Armchairs for conventions, congresses and conferences Claire
|
Modern fireproof armchair for congresses Claire
|
Chairs from recycled plastic for training and teaching room Ocean 4G
|
Chairs with flip-up wrinting-tablet for congress an convention halls Ocean
Similar lecture hall and community seating by purpose
Stacking chairs
|
Linking chairs
|
Seating and stacking chairs for community and congress areas
|
Library chairs and tables for school and classroom furniture
|
Seating solutions for congress, meeting and training-room
|
Seating and stacking chairs for community and congress
|
Visitor and meeting room seating chairs
|
Stackable and folding chairs
|
Bench seating for lobby and reception
|
Conference and meeting armchairs
|
Lecture hall and community bench seating
|
Multipurpose use home office seating
|
Stacking chairs
|
Tables for community centres
|
Timber frame stacking chairs
|
Modern design seating solutions for churches and cathedrals
|
Chairs for restaurants, fastfoods, pubs, bars, catering
|
Lunchroom chairs and stools for restaurant, bar, pub, pizzeria
|
Rest home wooden armchair and nursing seating for hospital
|
Tables and chairs for canteen, self-service, autogrill furniture